Plate magnetic separator is a high gradient, high field strength permanent magnetic separation equipment, which can effectively remove iron from quartz sand and non-metallic ore. The equipment is reliable, cheap in cost and convenient in operation. It is widely used in quartz sand production line. It can also be used in the wet separation of various weak magnetic metallic ores such as feldspar, nephrite, kaolinite, red ore (hematite, limonite, siderite, etc.), manganese ore, ilmenite and wolframite and separation of black and white tungsten, black tungsten and cassiterite, etc.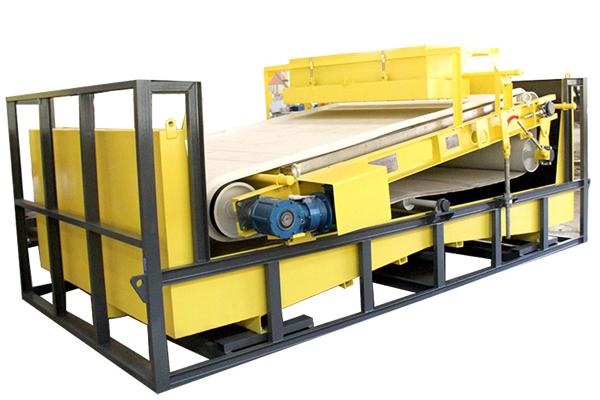 Features of plate magnetic separator
1. The equipment adopts high performance Nd-fe-b permanent magnet material with professional magnetic circuit design, and magnetic field strength up to 15000 gauss;
2. The equipment is simple in structure, without complex electrical control, and suitable for various environments;
3. The uniform flow swept area in the magnetic field area is large, which increases the contact area of materials and magnetic field and the frequency of tumbling in magnetic field. Compared with magnetic separators with the same magnetic strength, it greatly saves power consumption and reduces operation cost.
Working principle of plate magnetic separator
Under the action of gravity, the slurry flows down along the inclined direction of the magnetic plate. Under the action of the strong magnetic force of the magnetic plate, the ferromagnetic materials in the slurry are absorbed on the unloading belt, and the unloading belt moves upward along the inclined direction of the magnetic plate driven by the motor, and the absorbed ferromagnetic materials are brought into the unloading area.The ferromagnetic materials enter the tailings bucket with the flush water and then discharge. The non-magnetic slurry flows down the magnetic plate and flows into the concentrate bucket.
Specification of plate magnetic separator
Model
Capacity
(t/h)
magnetic intensity(GS)
Slurry concentration
Belt speed
(r/min)
Power(kw)
Weight
(t)
Dimension
(L×W×H) (mm)
JHFM-815
8-10
15000
10%-30%
2-8
1.1
1.2
1500x800x800
JHFM-1020
10-15
15000
10%-30%
2-8
1.5
1.6
2000x1000x1000
JHFM-1520
15-20
15000
10%-30%
2-8
2.2
3
2000x1500x1500
JHFM-1530
20-25
15000
10%-30%
2-8
3
3.6
3000x1500x1500
JHFM-2025
25-30
15000
10%-30%
2-8
4
4.5
2500x2000x1500
JHFM-2030
30-35
15000
10%-30%
2-8
5.5
5.6
3000x2000x1600