The technical standard of silica sand as raw material for producing artificial quartz slabs is very high, in addition to on the purity and particle size range it has high standard, on the whiteness of silica sand it has high standards as well. Some high-grade quartz raw materials can be processed in a series of processes such as crushing, sand making, iron removal, impurity removal, flotation, pickling, to produce qualified silica sand for quartz slabs. According to the characteristics of silica sand for quartz slabs. Sinonine develops appropriate solutions, which use advanced production technology to ensure the full use of silica sand resources and produce qualified products, at the same time fully considers reducing the cost of production line investment and operation, and environmental protection issues.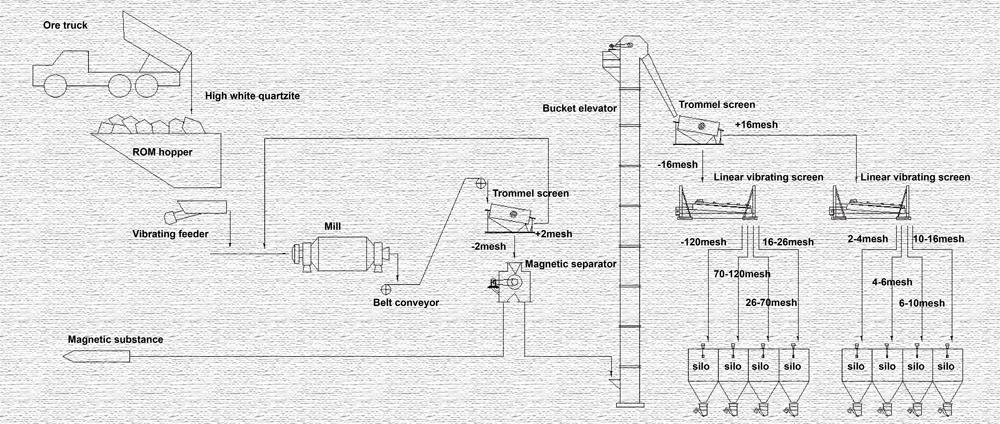 The technical process of slab sand processing
For quartz raw materials with high whiteness, through crushing, ball mill, magnetic separation, classifying, dewatering and drying the qualified silica sand can be obtained. For quartz sand containing a certain percentage of variegated impurities, in addition to need the above processes, it needs pickling process to remove the brown oxide wrapped on the surface of the quartz sand. Sinonine adopts enclosed
acid pickling equipment
in leching process. The excellent leching effect can be obtained, and at the same time it avoids the pollution problem and widely recognized by the market at present.
Features of slab sand processing
1. High productivity of the production line, which can reach more than 95%;
2. Simple structure of production line equipment, easy to maintain and operate;
3. No secondary pollution in the production process, ensuring high purity of the product;
4. Adopt environmental treatment measures to protect the environment;
5. The product has uniform particle size, round shape and no dust.