In the sand washing plant, the main function of the dewatering screen is to clean, dewatering and classifying the sand. It can recover a large amount of fine sand lost by the sand washing machine, and quickly dehydrate the quartz sand concentrate and tailings to obtain dry quartz sand.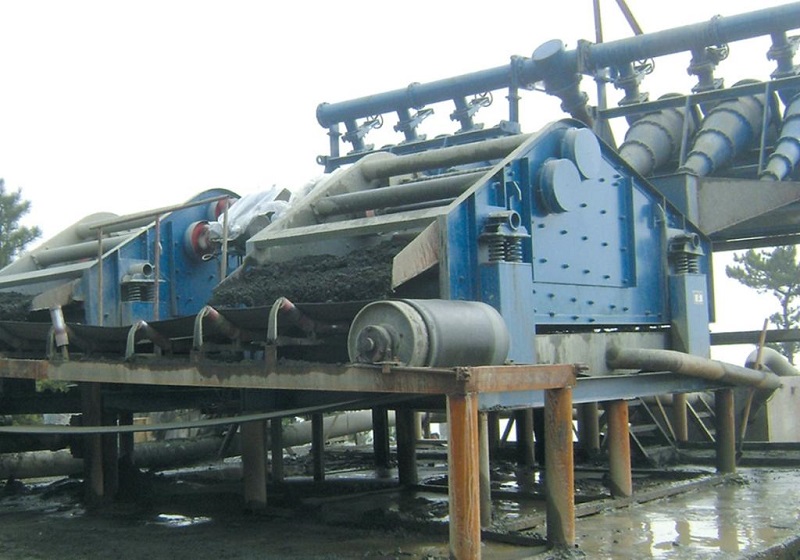 The dewatering screen has high processing capacity and low energy consumption. For example, in a quartz sand washing plant, the original dewatering equipment is vacuum filter, which has large investment and power consumption, and needs to change the filter cloth frequently, so it is very inconvenient to use. Later, the dewatering screen was used to replace the vacuum filter to dehydrate quartz sand. The dewatering screen has the advantages of small investment, small power consumption and convenient operation, which reduces a lot of costs for the sand washing plant.
There are several obvious advantages of using dewatering screen in sand washing plant
1.The dewatering screen has large production capacity and good dewatering effect.
The structure design of dewatering screen is reasonable, simple, not easy to block, high grain size of finished product, high recovery ratio of fine sand, high efficiency, continuous operation and reduced downtime.
2.It is convenient to overhaul and maintain the dewatering screen
The design and installation of dewatering screen is more convenient, and the workload of overhaul and maintenance in the production process is less, which is more convenient and fast, saving a lot of maintenance time.
3.The parts of the dewatering screen are wear-resistant, which can effectively save the operation cost.
The wearing parts of the dewatering screen are made of high-quality wear-resistant materials and extra hard wear-resistant materials, with good quality and performance, and do not need to be replaced frequently, which greatly reduces the cost of overhaul and maintenance.
4.The dewatering screen has compact structure and reduces pollution.
The dewatering screen has reasonable design and compact structure, which reduces the problems of sludge pollution and sand leakage in the production process, and meets the requirements of environmental protection production of users.
Actually, dewatering screen is widely used not only in quartz sand plant, but also in other industries. Dewatering screen is mainly suitable for the wet classification and solid-liquid separation of fine material below 0.5mm. Widely used in filtration and dewatering equipment industry such as beneficiation, environmental protection, tailings dry row, concentrate dewatering, slurry concentration, removal of debris, carbon slurry separation etc. This machine is particularly suitable for processing fine minerals. In addition, it can combine with hydro cyclone to be more efficient.

For more information about sand washing plant,sand washing machine and dewatering screen, please visit SINONINE website www.9silica.com, or contact us directly by +86-18118821087(Whatsapp).