Sinonine silica sand processing plant remove the impurities such as iron, aluminum trioxide, mica etc through crushing, scrubbing, washing, classifying and beneficiation.
Quartz raw ore or quartz/silica sand needs to be purified to remove impurities so as to obtain high purity silica sand. The SiO2 content of slicasand after processing can reach 99.9% or higher, and the iron content should be reduced to 30 ppm or lower, so as to meet different industrial use. The quartz sand can also be processed into quartz powder through drying and grinding.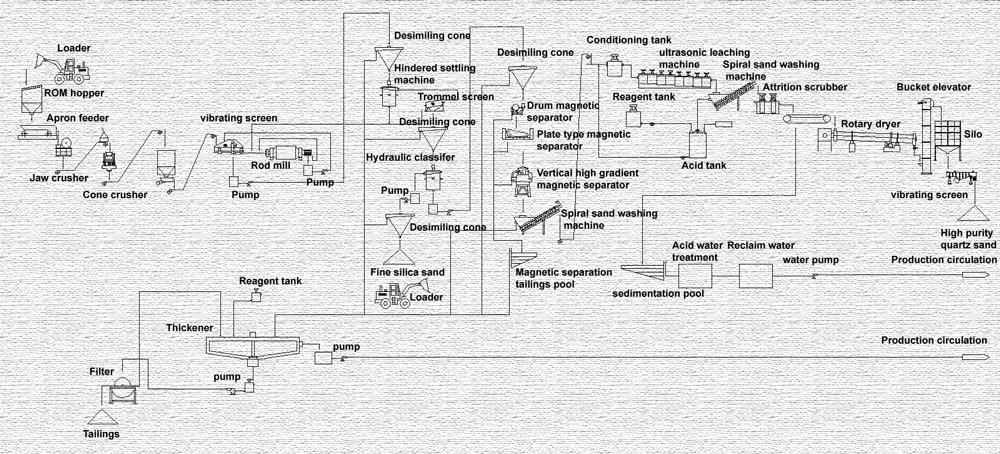 Silica sand processing plant technical process
The following is the usual purification process of quartz/silica sand. The raw ore is crushed and screened to remove impurities, then washed and scrubbed to further remove the impurities from quartz sand. Then the symbiotic metal and non-metal impurities are removed by flotation and finally the high purity quartz sand is obtained by rinse.
Raw ore treatment
The common quartz ore is generally quartz lump ore and silica sand. The quartz lump ore needs to be crushed up to 25mm and then ground by rod milling to a certain size, and then enters the subsequent washing, scrubbing, flotation and other processes. The silica sand needs to be screened out the impurities such as soil, organic matter and so on before entering the next stage of processing.
Preliminary cleaning and dewatering
The treated raw ore can enter the screw sand washer for preliminary cleaning and dewatering, and some impurities can be removed. At the same time, dewatering is carried out, so that the concentration of quartz sand slurry reaches 60-70%, which is preparation for the subsequent scrubbing operation.
Scrubbing
The adjusted slurry of quartz sand is sent to the scrubber for scrubbing. After continuous scrubbing, the soil, impurities covering the surface of quartz sand are separated, and then slurry goes into the washing operation for further treatment.
Secondary washing
After scrubbing, impurities and quartz sand have been separated, impurities exist in the surface of quartz sand and slurry, through the
spiral sand washer
the purity of quartz sand can be further improved.
Silica sand flotation
There are some impurities such as iron oxide, aluminum oxide and mica in the quartz sand after washing. At this time, the impurities can be effectively removed by adding appropriate flotation agents through flotation process, so as to obtain higher purity quartz sand.
Further washing and dewatering
After flotation, quartz sand concentrate can be dewatered by screw sand washer to obtain the final high-purity quartz sand, and its SiO2 content can reach more than 99%.
According to the actual production needs, the quartz sand after flotation can be further dewatered and dried, and then through the quartz sand grinding and classifying system the quartz powder can be obtained to meet different industrial needs.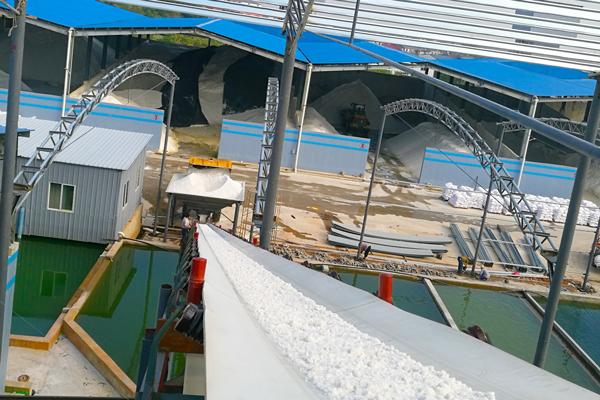 Sinonine can provide a complete set of quartz sand processing and purification solution and equipmets. In addition to the conventional treatment process mentioned above, It can also use particle size classification, strong magnetic separation, acid pickling and other technological processes according to the property of quartz sand to produce high-purity quartz sand products with different requirements.