Quartz sand, also known as silica sand, is a common non-metallic mineral raw material. After beneficiation and purification, it can be made into high-purity quartz sand, which is widely used in glass, ceramics, metallurgy, casting and refractory industries. So, how to purify quartz sand? SINONINE is in the leading position in quartz sand purification field, and has helped our customers build several quartz sand washing plants. Now we summarize the following common quartz sand purification methods.

1.Washing, grading and desliming of quartz sand
The grade of SiO2 in quartz decreases with the decrease of quartz particle size, while the content of impurity minerals such as iron and aluminum will increase. This phenomenon is particularly obvious in quartz sand containing a large number of clay minerals. Therefore, it is very important to purify quartz raw ore by water separation and desliming by
spiral sand washer
,
trommel screen
, hydrocyclone,
desliming cone
and
hydraulic classifier
And the purification effect is very obvious. As a pretreatment method of quartz sand purification, water washing and classification desliming are widely used in almost all kinds of sand washing plant and become an indispensable important process.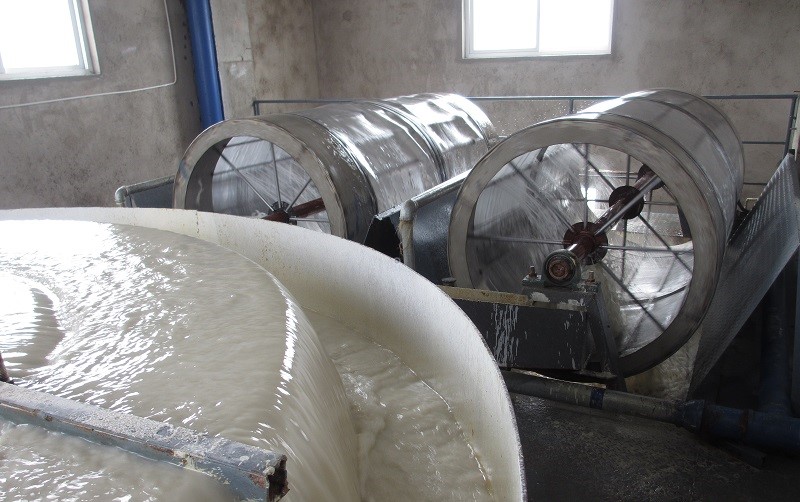 2.Quartz sand scrubbing
Scrubbing is mainly to remove the thin-film iron, cohesive and muddy impurity minerals on the surface of quartz sand with the help of mechanical force and abrasive stripping force between sand particles, and to further grind the mineral aggregate without monomer, and then to achieve the effect of further purification of quartz sand through classification process. At present, there are mainly two methods of quartz sand scrubbing: rod scrubbing and mechanical scrubbing. For the mechanical scrubbing method, the main factors affecting the scrubbing effect are the structural characteristics and configuration form of the scrubbing machine, followed by the process factors, including scrubbing time and scrubbing concentration.
Quartz sand scrubbing is generally carried out in the
attrition scrubber
, and the best effect is when the concentration of quartz sand scrubbing is between 50% - 60%. The scrubbing time should not be too long, which will increase the wear of equipment, increase energy consumption and increase the cost of quartz sand purification. For some quartz ores, rod friction washing can also be used, and weak acid can be added to remove the electric repulsion force on the surface of impurity minerals and quartz particles, so as to enhance the separation effect between impurity minerals and quartz particles. The scrubbing time and parameters should be guided by the experimental results.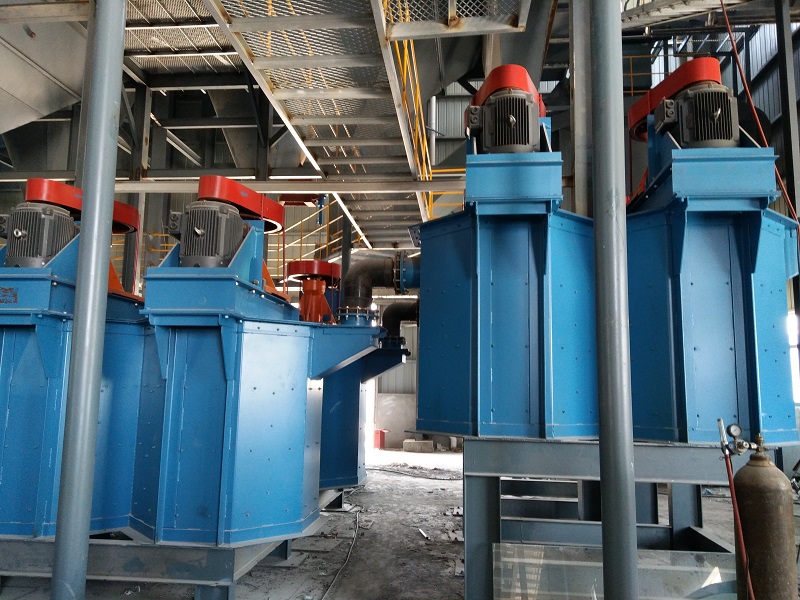 3.Magnetic separation of quartz sand
The strong magnetic mechanical iron in quartz sand can be removed by magnetic separator, and the weak magnetic impurity minerals such as hematite, limonite and biotite can be removed at the same time. Wet
magnetic drum separator
and
high gradient magnetic separator
are usually used in magnetic separation. Commonly, quartz with limonite, hematite, biotite and other weak magnetic impurity minerals can be selected by magnetic separator with magnetic field intensity above 1.0T; strong magnetic minerals with magnetite mainly can be separated by weak magnetic separator or medium magnetic separator with better effect.
The results show that the times of magnetic separation and the intensity of magnetic field have an important influence on the iron removal effect. With the increase of the times of magnetic separation, the iron content gradually decreases, and most of the iron can be removed under a certain intensity of magnetic field, but after that, even if the intensity of magnetic field increases a lot, the iron removal rate does not change much. In addition, the finer the grain size of quartz sand is, the better the effect of iron removal is, which is due to the high content of iron bearing impurities in fine-grained quartz sand. When there are many impurity minerals in quartz sand, it is impossible to purify quartz sand into high purity sand only by scrubbing, desliming and magnetic separation.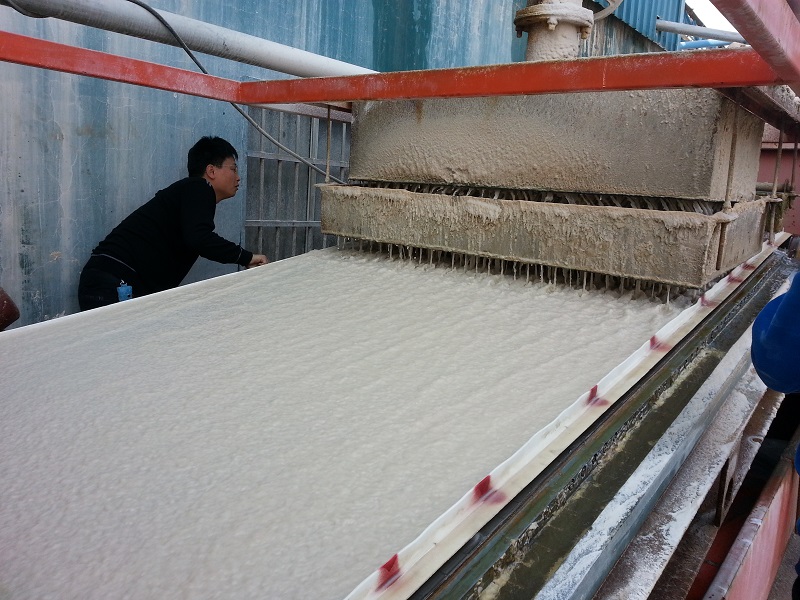 4.Quartz sand flotation
Quartz sand flotation
is mainly to remove feldspar, mica and other non-magnetic associated impurities in quartz sand. Quartz sand flotation mainly uses the proportion and dosage of mixed collectors of cation and anion, and uses their different potentials to preferentially flotation feldspar and realize separation.
After scrubbing, desliming, magnetic separation and flotation, the purity of quartz can reach 99.3% - 99.9%, which can meet the demand of industrial sand.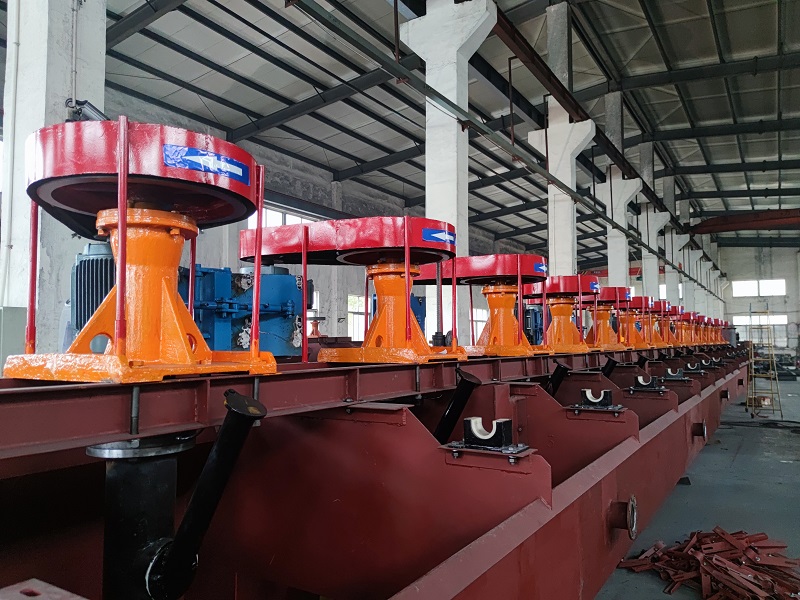 5.Quartz sand pickling
Pickling is to make use of the characteristics that quartz is insoluble in acid (except HF) and other impurity minerals can be dissolved in acid solution, so as to realize the further purification of quartz sand.
The acid commonly used in pickling includes sulfuric acid, hydrochloric acid, nitric acid and hydrofluoric acid, and the reducing agent includes sulfite and its salts. It is found that the above acids have a good removal effect on nonmetallic impurities in quartz, but for different metal impurities, the type and concentration of acids have a significant effect. It is generally believed that all kinds of dilute acids have a significant effect on the removal of Fe and Al, while for the removal of Ti and Cr, concentrated sulfuric acid, aqua regia or HF are used for acid leaching. Generally, the mixed acid composed of the above acids is used to remove impurity minerals by acid leaching. Considering the dissolution of HF on quartz, the HF concentration is generally not more than 10%. In addition to the concentration of acid, the amount of acid, leaching time, temperature and pulp stirring can affect the acid leaching effect of quartz sand. The factors of acid leaching should be controlled according to the requirements of final grade of quartz. The concentration, temperature and dosage of acid should be reduced as much as possible, and the acid leaching time should be reduced, so as to realize the purification of quartz sand at lower mineral processing cost.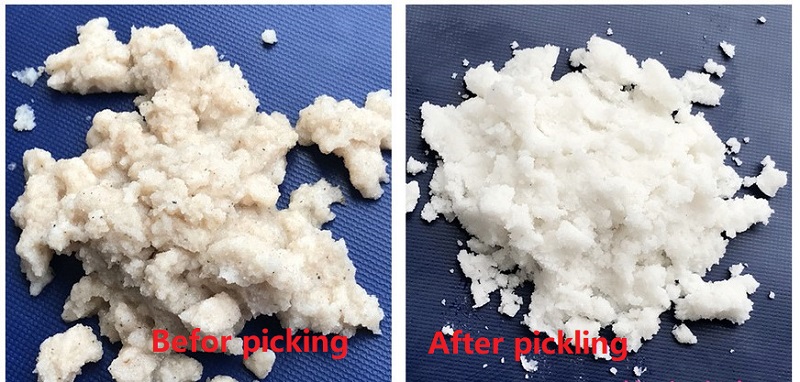 6.Quartz sand color sorting
Quartz sand color sorting mainly uses photoelectric technology to select impurities different from quartz sand color, so as to improve the purity of quartz sand. Quartz sand color sorting is mainly suitable for materials with large particles, impurities and quartz sand color difference, which can achieve rapid separation.
The above are six common purification methods of quartz sand. As for which purification method to choose, it needs to be determined according to the ore properties, investment budget, product grade and other factors of quartz sand. It is suggested that the raw material of quartz sand should be understood first, and the single or combined process should be selected through beneficiation test, so as to obtain the best economic benefit.

For more information about quartz sand purification, please visit SINONINE website www.9silica.com , or contact us directly + 86-18118821087 (WhatsApp)