Desliming cone is a simple classification, desliming and concentration equipment. In the production line of quartz sand, it is generally used for the classification and dewatering of quartz sand slurry, and the separation of slime and fine-grained materials to achieve the purpose of purifying quartz sand.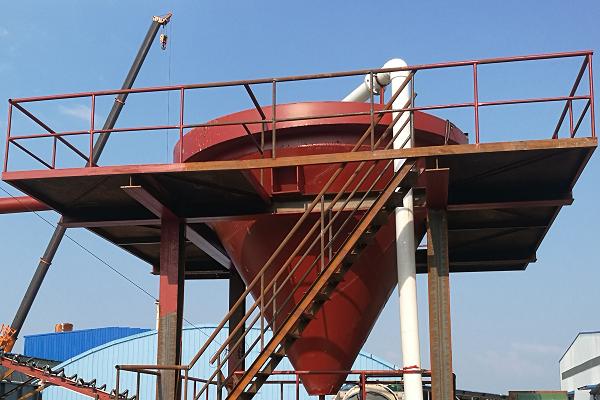 Working principle of desliming cone
The desliming cone is an inverted cone. A feeding pipe is arranged in the center of the liquid level, and the bottom edge of the cone is submerged in certain depth below the liquid level. The slurry is fed into the central pipe along the tangential direction and flows out from the bottom edge after buffering. The effluent slurry flows out radially along the peripheral overflow weir. In this process, the coarse particle materials with the sedimentation velocity greater than the rising velocity of liquid flow are deposited in the cone and discharged through the bottom. Fine particles with the slurry enter into the overflow tank and are discharged .
Features of desliming cone
1.No power consumption.
2.Simple structure and convenient operation.
3.High efficiency of classifying and dewatering.
4.small area occupied
5.Long settling route, good desliming and classifying effect.
Specification of desliming cone
Mode
Φ1000
Φ1500
Φ2000
Φ2500
Φ3000
Φ6000
Φ8000
Φ10000
Cone diameter (mm)
1000
1500
2000
2500
3000
6000
8000
10000
Sedimentation area (m2)
0.75
2.0
3.0
4.9
7.0
15
32
59
Volume (m3)
0.27
0.83
2.27
4.0
7.0
15
28
60
Diameter of discharge pipe(mm)
25
40
50
60
70
80
100
150
Ore discharge concentration (%)
40-60
40-60
40-60
40-60
40-60
40-60
40-60
40-60
Feeding pipe diameter (mm)
120
150
150
150
150
150
159
215
Desliming efficiency (%)
33-45
33-45
33-45
33-45
33-45
33-45
33-45
33-45
Weight (kg)
1500
1980
2480
3850
4600
6340
8480
10330
Capacity (t/h)
0-1.5mm
1.5-1.6
4-4.3
6-6.5
9.8-10.6
14-15
30-32
64-69
118-128
0-0.074
0.15-0.2
0.8-1.0
0.6-0.75
1.0-1.3
1.4-1.75
3-3.8
6.4-8
12-15