In
silica sand processing
and
sand washing plant
, flotation is an important way to obtain high purity silica sand. Through flotation, not only the residual weak magnetic iron in silica sand can be removed, but also the aluminum oxide, mica and other non-magnetic materials embedded in the silica sand can be removed, thus making the silica sand more pure. According to the production characteristics of silica sand,
Sinonine
develops high efficiency and low cost of special flotation reagents, combined with scrubbing, reagents mixing, coarse particle flotation process, the high purity silica sand products can be obtained and silica sand purity can reach above 99.9%.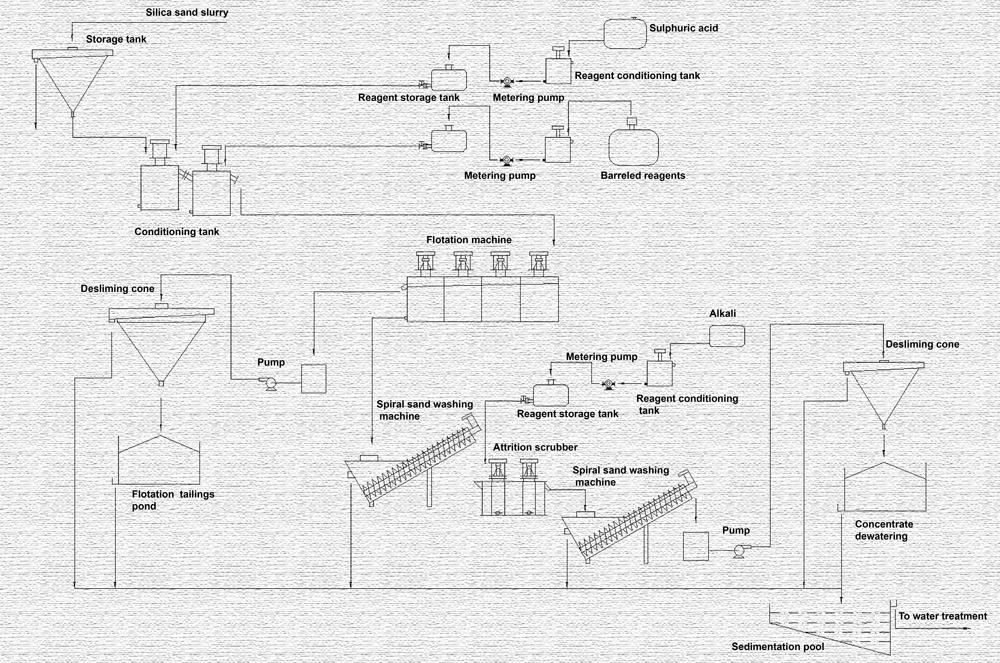 Features of silica sand flotation process
1. Adopt coarse particle flotation machine, especially for silica sand materials;
2. Reverse flotation impurity removal process, high flotation efficiency;
3. Special flotation reagents to ensure the flotation effect;
4. Low energy consumption and low operation cost of the production line;
5. Arrange water treatment system to avoid pollution discharge
The technical process of silica sand flotation
After the classification silica sand slurry enters into the efficient
conditioning tank
to be fully mixed with flotation reagents, and then enters into the coarse particle
flotation machine
for flotation, the impurities from flotation are discharged into tailings pond by froth scraper of flotation machine for water treatment and then discharged, the silica sand slurry sinking into the tank of the flotation machine enters the
spiral sand washer
for dewatering process, then the residual flotation reagent is separated from the silica sand by a strong
attrition scrubber
, again through spiral sand washer to remove reagents, finally high purity silica sand is obtained.