Trommel screen is a kind of screening equipment which classifies materials according to their particle size. It is commonly used in the classifying and screening of medium and fine materials to control the particle size of materials. In silica sand production line, tormmel screen is often used in combination with hydraulic classifier to control large particle materials.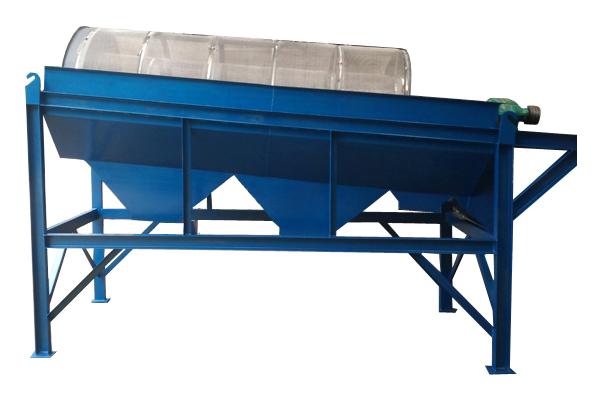 Working principle of trommel screen
Trommel screen is mainly composed of motor, reducer, trommel, rack, seal cover, inlet and outlet, etc. The trommel is mounted on the rack at an Angle.The motor is connected with the drum device by a reducer through a coupling, and the trommel is driven to rotate around its axis. When the material enters into the trommel, due to the tilt and rotation of the trommel, the material on the screen surface is turned over and rolled, so that the fine material is discharged through the outlet at the bottom of the back end of the trommel, and the coarse particle material and impurities are discharged through the outlet at the end of the trommel.
Features of trommel screen
Trommel screen's power is small, low energy consumption, there is a self-cleaning device, screen hole is not easy to be blocked;
Small occupation space, low investment cost, stable and reliable operation, high screening efficiency, large output;
Simple process layout, easy installation and maintenance, easy operation;
Strong adaptability to materials, high viscosity and humidity and other properties of materials can be screened;
Central screen has good wear resistance, long service life and convenient replacement.
Specification of trommel screen
| | | | | |
| --- | --- | --- | --- | --- |
| Model | Capacity (m3/h) | Trommel external Dia. (mm) | Trommel length (mm) | Power (kw) |
| GTS06 | 5-10 | Φ600 | 1.2m-2.8m | 0.75 |
| GTS08 | 8-15 | Φ800 | 1.5m-2.8m | 1.5 |
| GTS10 | 15-30 | Φ1000 | 1.5m-3.0m | 2.2 |
| GTS12 | 20-50 | Φ1200 | 1.5m-3.5m | 3 |
| GTS15 | 40-80 | Φ1500 | 1.5m-4.2m | 5.5 |
| GTS18 | 80-150 | Φ1800 | 1.5m-4.5m | 7.5 |
| GTS20 | 130-200 | Φ2000 | 1.5m-5.5m | 11 |