Different application fields need silica sand products with different particle size range in silica sand processing and sand washing plant. Accurate classifying process is an important part to ensure the quality of silica sand. In the actual production process, hydraulic classifier, trommel screen and hindered settling machine are often used to control the particle size of the product, to classify the silica sand to the required particle size range, and at the same time to improve the product yield and reduce the loss rate of the finished product.The silica sand classifying system designed by Sinonine adopts the world's most advanced classifying equipment, which can realize the stepless adjustment of silica sand particle size classifying and automatic production. It is the classifying system with the highest efficiency, productivity and automation in the industry.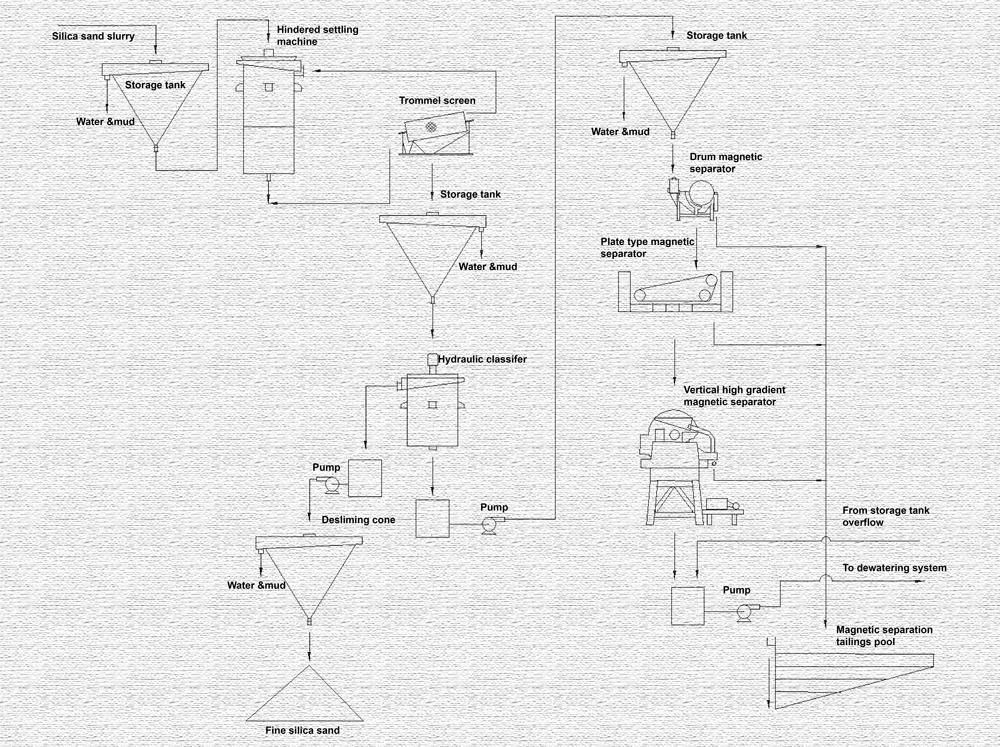 Features
1. High production efficiency and large-scale production can be realized;
2. Accurate particle size control;
3. High yield rate and low loss rate of finished products;
4. High degree of automation;
5. Low energy consumption and low production cost.
6. No noise pollution in the production process
The technical process
Silica sand slurry enters the hindered settling classifier through the slurry pump for preliminary coarse particle control, coarse particle sand enters the trommel screen to further separate the sand with upper limit of particle size, the sand slurry discharged from the hindered settling classifier and trommel screen enters the hydraulic classifier for fine particle classifying, to classify the sand in the required particle size range.The number of classifiers can be arranged flexibly to realize the classification of multi-stage of particle size.