This
sand washing plant
purifies quartz sand and produces raw materials suitable for glass production, such as float glass, quartz glass, photovoltaic glass, etc. The use of reasonable process equipment, greatly saves electricity consumption and achieve zero discharge of sewage and dust. It has the advantages of large output, high purity and no pollution, and stable and reliable process.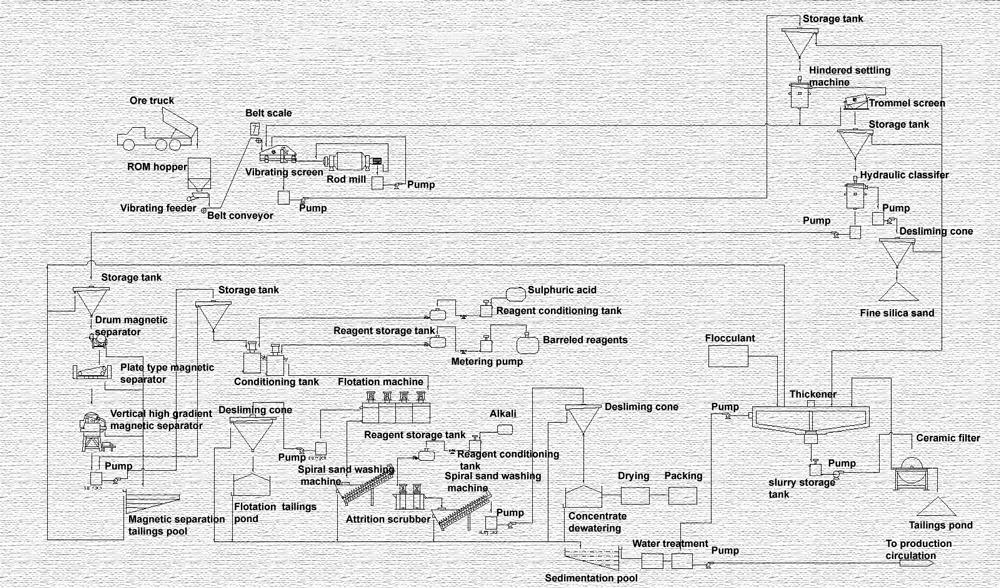 Technical process of glass sand washing plant
The general process is: "run of mine ore – primary crushing - medium crushing - pre-screening - grinding - de-sludge - coarse grain classification - de-sludge - plate type magnetic separator rough selection - vertical ring high gradient magnetic separator separation – washing-flotation-fine grain Grading – dehydration etc.
Production process: The forklift delivers the raw ore into the silo, and a conveyor is placed at the tail of the silo. The run of mine is uniformly crushed by the vibrating feeder through the conveyor to the
jaw crusher
directly below.
Then, the crude material produced is transported by the conveyor to the fine crusher for further crushing, and the finely crushed stone is put into the vibrating screen to sieve two stones and stones of different sizes.
The undersize material enters the
hindered settling machine
and the
hydraulic classifier
for classification. The graded product is subjected to iron removal by a high field strength
plate magnetic separator
and a vertical ring
high gradient magnetic separator
.
The fine sand after the iron removal is dehydrated by the
desliming cone
and then driven into the fine sand pool.
Glass silica sand technical index
| | | | | |
| --- | --- | --- | --- | --- |
| Item | SiO2(%) | Fe2O3(%) | Al2O3 | Size |
| First grade sand | >99.5 | <0.02 | | 40-120mesh>90% |
| Second grade sand | >99.5 | <0.03 | | 40-150mesh>90% |
| Float glass sand | >98.5 | <0.08 | <1.0 | 30-120mesh>90% |