Sand making machine is a special and efficient equipment for making various kinds of sand from hard stone.
VSI sand making machine(VSI crusher) is the latest successful crushing machine with the international advanced technology. Many years technology accumulation and modern processing equipment ensure the leading position of the VSI crusher in this industry. Excellent cost performance and reliability make VSI crusher outstanding in the similar products. VSI crusher is the perfect combination of the latest research result of Germany and Chinese present working conditions. It is currently the exclusive production sand making machine with the worlds advanced level. VSI crusher is suitable for crushing and shaping soft or middle-hard or extremely hard materials, widely applied to pebble, rocks (limestone, granite, basalt, dolerite, andesite), iron ore tailing, artificial sand making of stone chips. It is also applied to water conservancy and hydropower of engineering field, high-grade highways, expressway and railway, passenger railway, bridge, airport pavement, municipal engineering, sand manufacturing and aggregated rock shaping.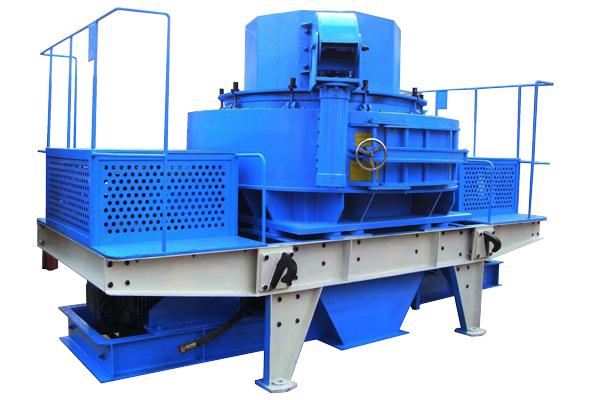 Features and technology advantages of sand making machine
1.Simple and reasonable structure, low cost
2.High crushing ratio, energy saving
3.Fine crush and grind
4.Moisture content of raw material up to about 8%
5.Suitable for crushing hard material
6.Excellent shape of final product
7.Small abrasion, easy maintenance
8.Noise when working is below 75dB
Working principle of sand making machine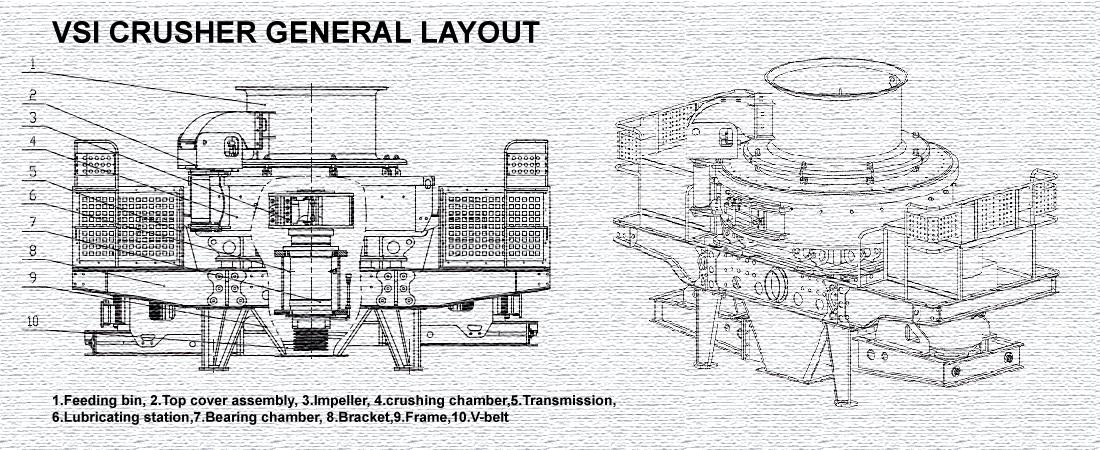 The materials fall into impeller with high-speed rotation vertically. On the force of high-speed centrifugal, the materials strike to the other part of material in a high speed. After mutual impacting, the materials will strike and rub between the impeller and the casing and then be discharged straight from the lower portion to form a closed multiple cycles. Final product is controlled by screening equipment to meet the requirement.
Specification of sand making machine
Model
VSI-7611
VSI-8518
VSI-9526
VSI-1140
VSI-1145
Capacity
(t/h)
Center and
Ring
Feeding
120-180
200-260
300-380
450-520
500-640
Center
Feeding
60-90
100-130
150-190
225-260
250-360
Max.Feeding
Size (mm)
Soft
Material
<30
<35
<40
<40
<40
Hard
Material
<25
<30
<35
<35
<35
Rotation Speed (r/min)
1700-1890
1520-1690
1360-1510
1180-1310
1100-1310
Power for Double Motor (Kw)
110-150
180-220
264-320
400-440
400-440
Overall Dimension (mm)
3700×2150×2100
4140×2280×2425
4560×2447×2778
5000×2700×3300
5100×2790×3320
Power Source
380V, 50Hz
Lubrication
Hydraulic
Pressure
Station
Power for
Double Oil
Pump (KW)
2×0.31
Safety
The double oil pumps ensure the supply of the oil; Stop working without oil or hydraulic
pressure;Temperature falls when the water cools;Start the motor by heating it in winter.
Overall
Dimension
(mm)
820×520×1270
Power for
Oil Box
Heater (kw)
2