Conditioning Tank is suitable in industries to wet agitate slurry materials, allowing ore particles to suspend and to fully contact with reagent before being mixed evenly and creating conditions for separating operation.It is widely used in flotation process of metal and nonmetal minerals.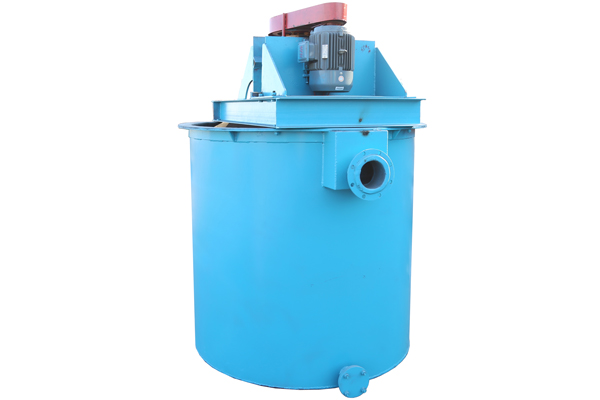 Features and technology advantages of conditioning tank
1.Small power consumption, big stirring intensity and good blending effect.
2.The impeller is above the ore pulp sedimentation zone, which is light for starting, so it has a small starting power in order to relieve operators' labor intensity in a large extend.
3.Simple structure, large effective volume .
4.Low blade cycle speed and long service life.
5.The relevant location between feeding, discharge and the electrical machine can be arranged differently according to users' requirements.
Working principle of conditioning tank
When the impeller moves in the clockwise direction (seeing from the top to down), one zone of negative pressure generates underneath the blade. The ore pulp, medicament and air which are delivered by the feeding pipe are simultaneously absorbed and move downward, they are blended fully by the impeller and then are pushed outside by the blade, which flows upward along with the external wall of cycling pump. Since new ore pulp is fed in constantly, and the qualified ore pulp through stirring and blending comes out from the mine mouth constantly, and the stirring and blending operation is done.
Specification of conditioning tank
Model
Internal diameter (mm)
Internal Height (mm)
Volume (m3)
Power
(kw)
Dimension (LxWxH) (mm)
Weight (t)
XB500
500
500
0.1
1.1
600×570×960
0.25
XB750
750
750
0.33
1.5
1140×880×1250
0.5
XB1000
1000
1000
0.79
1.5-2.2
1300×1130×1600
0.8
XB1200
1200
1200
1.4
3-4
1750×1480×1930
1.1
XB1500
1500
1500
2.7
5.5-7.5
2150×1640×2350
1.2
XB2000
2000
2000
6.3
5.5-7.5
2650×2200×2850
1.6
XB2500
2500
2500
12
11-15
2860×2600×3680
3.5
XB3000
3000
3000
21
18.5-22
3610×3220×4250
4.6
XB3500
3500
3500
34
22-30
3940×3770×5090
7.3
XB4000
4000
4000
50
30-37
4530×3360×5300
10