Hydraulic chamber press filter is a kind of intermittent solid-liquid separation equipment, it adopts the mechanical and electrical integration design and manufacture, reasonable structure, simple and convenient operation; to achieve the filter plate pressed, pressure maintained, the filter plate loosened. It is widely used in pharmaceutical, chemical industry, metallurgy, standard parts, non-standard screws, dyes, food, brewing, ceramics, oil refining, sewage treatment and other environmental protection industry etc. This press filer is suitable for concentrate filtering, tailings dry stacking and the product particle size reaches -500 mesh.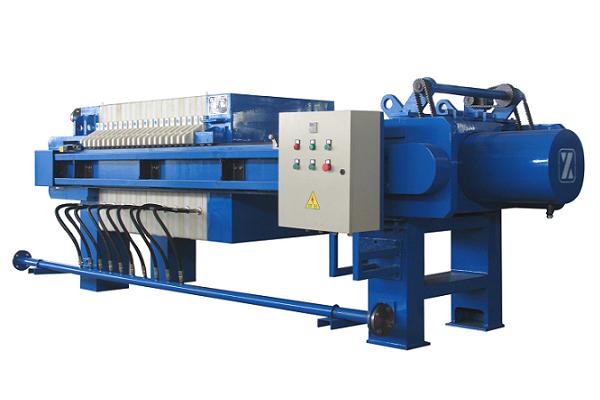 Features and technology advantages of press filter
1.Stable performance.
2.High automation, safe and reliable, convenient operation.
3.Backwashing operation.
Working principle of press filter
Hydraulic chamber filter press takes filter cloth as the medium to separate solid and liquid. It is a separating machine with wide rang of particle size. The filter cloth spreads in a filter board surface, it is supported by the swelling groove of filter board, when the filter board is clamped, filter cloth turns to sealing materials, and the cavity between every two filter board forms a separated filter room. During the filter processing, the materials come through the central opening into filter room, the filtrate flow by the feeding pressure, flow out of the filter board after converged.
Specification of press filter
Model
Filter
Area (m2)
Filter Chamber Qty.
Spec. of Filter Plate (mm)
Volume of Filter Chamber (m3)
Overall Dimension
(L×W×H) (mm)
Power (kw)
Weight
(kg)
XM/AZ 20/800U
20
20
800×800×60
0.287
3500×1350×1160
2.2
2750
XM/AZ 30/800U
30
30
800×800×60
0.453
4110×1350×1160
2.2
3130
XM/AZ 40/800U
40
40
800×800×60
0.605
4720×1350×1160
2.2
3420
XM/AZ 50/800U
50
50
800×800×60
0.756
5330×1350×1160
2.2
3700
XM/AZ 60/800U
60
60
800×800×60
0.907
5940×1350×1160
2.2
4110
XM/AZ 70/800U
70
70
800×800×60
1.059
6550×1350×1160
2.2
4400
XM/AZ 80/800U
80
80
800×800×60
1.21
7160×1350×1160
2.2
4740
XM/AZ 40/900U
40
32
900×900×60
0.59
4230×1480×1280
2.2
4500
XM/AZ 50/900U
50
40
900×900×60
0.75
4720×1480×1280
2.2
4800
XM/AZ 60/900U
60
47
900×900×60
0.88
5150×1480×1280
2.2
5100
XM/AZ 70/900U
70
63
900×900×60
1.19
6120×1480×1280
2.2
5700
XM/AZ 60/1000U
60
38
1000×1000×60
0.9
5450×1560×1360
2.2
7080
XM/AZ 80/1000U
80
50
1000×1000×60
1.19
6180×1560×1360
2.2
7830
XM/AZ 100/1000U
100
62
1000×1000×60
1.48
6910×1560×1360
2.2
8680
XM/AZ 120/1000U
120
75
1000×1000×60
1.8
7710×1560×1360
2.2
9250
XM/AZ 125/1250U
120
46
1250×1250×65
1.9
6500×1770×1620
4
10900
XM/AZ 150/1250U
150
58
1250×1250×65
2.41
7290×1770×1620
4
11800
XM/AZ 180/1250U
180
69
1250×1250×65
2.88
8020×1770×1620
4
12700
XM/AZ 200/1250U
200
77
1250×1250×65
3.22
8550×1770×1620
4
13300
XM/AZ 220/1250U
220
84
1250×1250×65
3.51
9010×1770×1620
4
13900
XM/AZ 250/1250U
250
95
1250×1250×65
3.98
9740×1770×1620
4
14800
XM/AZ 300/1500U
300
77
1500×1500×70
4.76
10040×2400×1800
5.5
26500
XM/AZ 320/1500U
320
83
1500×1500×70
5.14
10460×2400×1800
5.5
27190
XM/AZ 340/1500U
340
88
1500×1500×70
5.45
10820×2400×1800
5.5
27880
XM/AZ 350/1500U
350
90
1500×1500×70
5.58
10960×2400×1800
5.5
28230
XM/AZ 380/1500U
380
98
1500×1500×70
6.08
11530×2400×1800
5.5
29260
XM/AZ 400/1500U
400
103
1500×1500×70
6.39
11880×2400×1800
5.5
29950
XM/AZ 450/1500U
450
116
1500×1500×70
7.21
12810×2400×1800
5.5
31670
XM/AZ 500/1500U
500
128
1500×1500×70
7.96
13660×2400×1800
5.5
33390
XM/AZ 560/2000U
560
80
2000×2000×83
11.16
10600×2900×2450
11
56500
XM/AZ 600/2000U
600
86
2000×2000×83
12.01
12110×2900×2450
11
58000
XM/AZ 630/2000U
630
90
2000×2000×83
12.58
12440×2900×2450
11
59000
XM/AZ 670/2000U
670
96
2000×2000×83
13.43
12950×2900×2450
11
60500
XM/AZ 710/2000U
710
101
2000×2000×83
14.13
13370×2900×2450
11
62000
XM/AZ 750/2000U
750
107
2000×2000×83
14.98
13870×2900×2450
11
63300
XM/AZ 800/2000U
800
114
2000×2000×83
15.97
14460×2900×2450
11
65200
XM/AZ 850/2000U
850
121
2000×2000×83
16.96
15050×2900×2450
11
67000
XM/AZ 900/2000U
900
128
2000×2000×83
17.95
15640×2900×2450
11
69000
XM/AZ 950/2000U
950
135
2000×2000×83
18.94
16220×2900×2450
11
70600
XM/AZ 1000/2000U
1000
142
2000×2000×83
19.92
16810×2900×2450
11
72300
XM/AZ 1060/2000U
1060
151
2000×2000×83
21.2
17570×2900×2450
11
74500
XM/AZ 1120/2000U
1120
159
2000×2000×83
22.33
18240×2900×2450
11
76800
XM/AZ 1180/2000U
1180
168
2000×2000×83
23.61
19000×2900×2450
11
79000