This system is a set of quartz sand powder production line, which adopts special quartz sand ball mills and air classifier as grinding and classifying equipments respectively.The quartz powder produced is of uniform particle size and pollution-free, the particle size is convenient for control, large-scale production can be realized.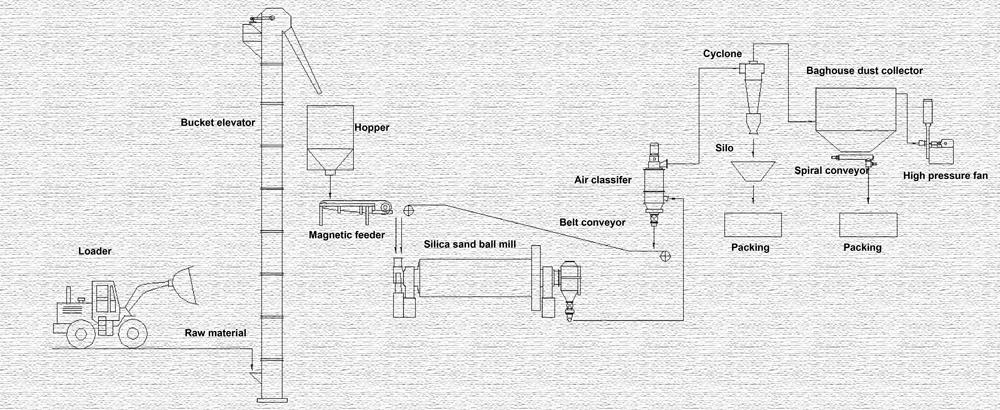 Features of quartz sand powder making
1. The ball mill and classifier are specially designed to ensure the efficient production of quartz powder;
2. The whole process is under negative pressure, which is not easy to produce dust pollution;
3. The production line adopts centralized control to reduce the labor intensity of operators.
Working principle of quartz sand powder making
After crushing the quartz sand is fed into the ball mill by the bucket hoist for grinding. After grinded by the ball mill, the quartz sand is transported to the classifier through screw conveyor for particle size classification, and the finished products are stored in batches according to the products' particle size requirements.The automatic control system controls and adjusts the whole system to ensure the normal operation of the production line.
Quartz sand powder production line equipment list
| | | | | | | | |
| --- | --- | --- | --- | --- | --- | --- | --- |
| Capacity (kg/h) | Ball mill | Air classifier | Total power (kw) | Product granularity(um) | classifying precision | Dedusting area (m2) | dust concentration (mg/m3) |
| 480-600 | SQG1245 | SSF50 | < 75 | 5-50 | D97 | > 50 | <40 |
| 720-1080 | SQG1557 | SSF100 | < 145 | 5-50 | D97 | > 70 | <40 |
| 2100-2400 | SQG1870 | SSF200 | < 225 | 5-50 | D97 | > 100 | <40 |
| 3000-3600 | SQG2270 | SSF400 | < 345 | 5-50 | D97 | > 120 | <40 |
| 4200-4800 | SQG2470 | SSF600 | < 550 | 5-50 | D97 | > 200 | <40 |
| 5000-6600 | SQG2680 | SSF800 | < 665 | 5-50 | D97 | > 200 | <40 |
| 7000-9000 | SQG2611 | SSF1200 | < 800 | 5-50 | D97 | > 300 | <40 |