JHQM series high efficiency air case pulse-jet type bag house dust collector integrated sectional reverse blow, pulse jet cleaning and other advantages of all kinds of bag type dust collector, overcome the chamber cleaning's poor strength, shortcoming of pulse blowing needing filtering simultaneously, with feature of overall cleaning room . This series of dust collector using large pulse valve cleaning, with strong cleaning ability, good effect, long service life, can be widely used in building materials, metallurgy, machinery, chemical industry and refractory materials, especially suitable for the dust collecting system of crushing, packaging, silo roof ,clinker cooling in cement plant and suitable for the dust collecting system of various grinders. It can also be used for coal grinding dust after changing the corresponding structure.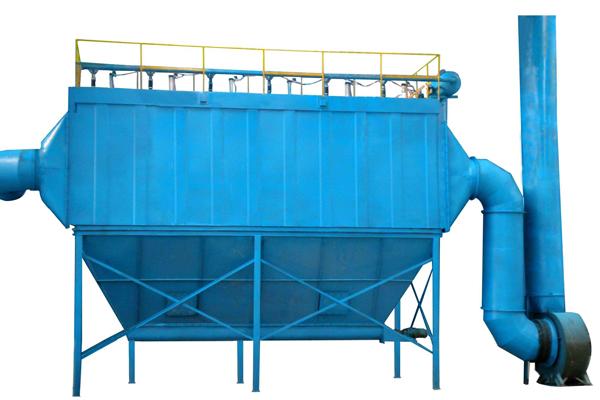 Features and technology advantages of dust collector
1.The ash cleaning principle is advanced, without blowing pipe, but the pulse valve is installed in the side wall of the box or the top cover, let the cleaning air is injected into the upper box and the space gas pressurization, and the energy transfer to the bag to achieve cleaning; and change the bag operation eliminates the need for dismantling and installing the blowing process, easy to replace the filter bag.
2.Using large pulse valves, reducing the number of pulse valves, thereby reducing the workload of the pulse valve maintenance.
3.The off-line sectional reverse blow pulse cleaning technology, which can avoid the on-line cleaning dust generated by the two flying "adsorption", and does not affect the normal continuous operation of the equipment running, improve cleaning efficiency, prolong the service life of the filter bags.
4.To adapt to the high concentration of dust, such as O-Sepa separator, the grinding system air dust concentration up to 1000g/Nm3.
5.The air tank structure is adopted to reduce the local gas resistance loss of equipment.
Working principle of dust collector
Under the action of the draught fan, the dust air enters from the air inlet filter into the hopper through the inclined baffle, at this time due to the slow speed of airflow, under the action of inertia force and gravity, coarse particles of dust fall into ash hopper. Small dust particles with air enter the filtering chamber, by the filter-bag's purification, dust is attached to the outer surface of bag, and the purified air comes through the filter bag into the upper clean room, all clean air gathers in clean room, sucked by the main fan of dust removal system and discharged into the air from the air outlet.
Specification of dust collector

Model
Capacity
(m3/h)
Filtering air speed
(m/min)
Filtering area
(m2)
Chamber Qty.
Bag
Qty.
heat preservation area
(m2)
Inlet dust concentration (g/Nlm3)
Discharge concentration
(g/Nlm3)
Ash cleaning air consumption (Nm3/min)
JHQM32-3
6900
1.0-2.0
93
3
96
26.5
<1000
<0.05
0.27
JHQM32-4
8930
1.0-2.0
124
4
128
34
<1000
<0.05
0.37
JHQM32-5
11200
1.0-2.0
155
5
160
41
<1000
<0.05
0.46
JHQM32-6
13390
1.0-2.0
186
6
192
48.5
<1000
<0.05
0.55
JHQM64-4
17800
1.0-2.0
248
4
256
70
<1000
<0.05
1.2
JHQM64-5
22300
1.0-2.0
310
5
320
94
<1000
<0.05
1.5
JHQM64-6
26700
1.0-2.0
372
6
384
118
<1000
<0.05
1.8
JHQM64-7
31200
1.0-2.0
434
7
448
142
<1000
<0.05
2.1
JHQM64-8
35700
1.0-2.0
496
8
512
176
<1000
<0.05
2.4
JHQM96-4
26800
1.0-2.0
372
4
384
110
<1000
<0.05
1.2
JHQM96-5
33400
1.0-2.0
465
5
480
120
<1000
<0.05
1.5
JHQM96-6
40100
1.0-2.0
557
6
576
130
<1000
<0.05
1.8
JHQM96-7
46800
1.0-2.0
650
7
672
140
<1000
<0.05
2.1
JHQM96-8
53500
1.0-2.0
744
8
768
150
<1000
<0.05
2.4
JHQM96-9
60100
1.0-2.0
836
9
864
160
<1000
<0.05
2.7
JHQM96-10
66900
1.0-2.0
929
10
960
175
<1000
<0.05
3.0
JHQM96-12
80700
1.0-2.0
1121
12
1152
210
<1000
<0.05
3.4
JHQM96-14
94100
1.0-2.0
1308
14
1344
215
<1000
<0.05
4.2
JHQM96-16
107600
1.0-2.0
1494
16
1536
280
<1000
<0.05
4.8
JHQM96-18
121000
1.0-2.0
1681
18
1728
315
<1000
<0.05
5.4
JHQM96-20
134500
1.0-2.0
1868
20
1920
350
<1000
<0.05
6.0
JHQM128-6
67300
1.0-2.0
935
6
768
125
<1300
<0.05
3.6
JHQM128-9
100900
1.0-2.0
1402
9
1152
196
<1300
<0.05
5.4
JHQM128-10
112100
1.0-2.0
1558
10
1280
205
<1300
<0.05
6.0
JHQM128-12
134600
1.0-2.0
1869
12
1536
223
<1300
<0.05
7.0
JHQM128-14
157000
1.0-2.0
2181
14
1792
247
<1300
<0.05
8.3
JHQM128-16
179400
1.0-2.0
2492
16
2048
262
<1300
<0.05
9.5
JHQM128-18
210900
1.0-2.0
2804
18
2304
277
<1300
<0.05
10.7
JHQM128-20
224300
1.0-2.0
3115
20
2560
292
<1300
<0.05
12
JHQM128-22
247600
1.0-2.0
3427
22
2816
307
<1300
<0.05
13.1
JHQM128-24
269100
1.0-2.0
3738
24
3072
322
<1300
<0.05
14.3
JHQM128-26
291600
1.0-2.0
4050
26
3328
337
<1300
<0.05
15.5
JHQM128-28
314000
1.0-2.0
4361
28
3584
352
<1300
<0.05
16.7