The air classifier is mainly used to control the particle size of silicon powder . It is often used with ball mill to form a silicon powder production line, and can be used alone to classify mixed powder materials with different particle sizes.The machine is composed of main machine, cyclone dust collector, impulse dust collector, draught fan, control system, etc.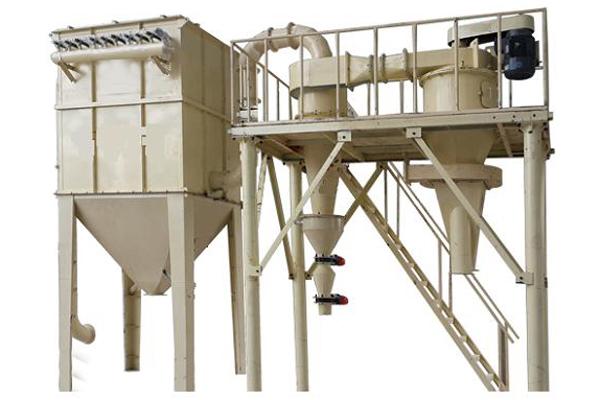 Features and technology advantages of air classifier
1. High classification accuracy, high purity and no pollution;The structure of classifier is specially designed with high classification accuracy and strict control of large particles.
2. Wide range of classification;The particle size can be freely adjusted through the grading of the impeller speed and the air volume of the draught fan to obtain the required products. It has a wide range of classification of 3-50 microns.
3. High grading efficiency; Adopting low rotating speed vertical single impeller classification structure, the material flow field is stable, the equipment processing capacity is large, the classification efficiency is high, may reach above 90%.
4. It can be used in series for multiple levels, and the products of several particle size segments can be classified at the same time to obtain ideal particle size distribution.
Working principle of air classifier
The air classifier is a forced classifier with secondary air intake and vertical big impellers. The materials under the action of suction fan enter through the lower body, and rise to the grading section, as a result of the high-speed rotation of grading impellers, the material particles is under the centrifugal force produced by the rotation of the impeller and centripetal force caused by induced draft fan, when the centrifugal force is greater than the centripetal force, the coarse particles is flung to the cylinder along the wall fall. the secondary air enters through the air inlets evenly distributed on the cone, fine powder mixed with or adhering to the coarse particles is separated clean by the wind screen. The coarse material after classfication is collected by the unloading device and discharged. The fine powder below the grading diameter is collected by the cyclone collector and pulse dust collector along with the gas-solid two-phase flow, and the purified gas is discharged by the induced fan.
Specification of air classifier
| | | | | | |
| --- | --- | --- | --- | --- | --- |
| Model | Capacity(kg/h) | Efficiency of classification | Particle size(um) | Sieving rate | Power(kw) |
| SSF010 | 10-50 | 70-90% | 3-50 | D97 | 7 |
| SSF 020 | 50-350 | 70-90% | 3-50 | D97 | 15-19 |
| SSF 050 | 100-800 | 70-90% | 3-50 | D97 | 25-30 |
| SSF 100 | 300-1500 | 70-90% | 3-50 | D97 | 41-48 |
| SSF 200 | 500-4000 | 70-90% | 3-50 | D97 | 63-73 |
| SSF 400 | 2000-5000 | 70-90% | 3-50 | D97 | 97-20 |
| SSF 500 | 3000-6000 | 70-90% | 3-50 | D97 | 110-30 |
| SSF 600 | 4000-8000 | 70-90% | 3-50 | D97 | 140-169 |
| SSF 800 | 6000-12000 | 70-90% | 3-50 | D97 | 170-210 |
| SSF 1200 | 8000-20000 | 70-90% | 3-50 | D97 | 230-280 |